"And Rodney, I'm giving you a do-right duty that's all about road safety: something you need to know more about."
—Daisy talking to Hot Rodney Has Been Disqualified after Buddy wins the race
Made Of 1999 Vauxhall Astra 1.4 16v Envoy MkIV In British Daisy Do-Right is a white police car with pink and red Battenburg markings on both sides. She is very kind and is best friends with Buddy. UK Voiced By Charlotte Bellamy Brenda Longman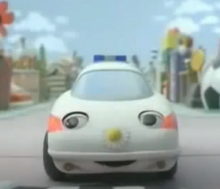 Always after culprits (like Hot Rodney, for example) get caught, Daisy offers them a do-right duty for something. She has a daisy for her nose (Hence her name).
In the 2021 reboot series Back In Dream Street, She has red livery instead of white
In the episode "Dinosaur" Jack The Wild Bunch (After tricking Half-Pint) trapped Daisy in a net and got rescued by Buddy.
Buddy (Best friend)
Half-Pint (Friend)
Ice Cool (Friend)
Tech (Friend)
Amber and Scarlet (Friends)
Visiting fields full of Daises
Sleeping Policemen falling asleep on patrol
Favourite game
Edit
I Spy
Favourite colour
Edit
Pink (1999-2000) Purple (2001-2002) White (2021-Present)
Community content is available under
CC-BY-SA
unless otherwise noted.